Retractable Cassette Awning
Sunray Awnings & Blinds
Felicia
The Felicia™ is an exceptional retractable awning system which, when fully retracted, encloses the awning arms and fabric inside a cassette, protecting the working mechanisms, fabric and any automation electronics.  This compact design gives the product a superior life in New Zealand's variable climatic conditions.
Manufactured in New Zealand from imported European components, Felicia's™ stylish lines and unobtrusive form blend in perfectly to match your decor, particularly when they are custom made and finished with a wide range of matching Dulux® powder-coat colours.
Only the arms (hidden when closed), remain in a natural anodised aluminium finish.  Felicia™ awnings can be motorised for automated operation by Nice® tubular motors, available with optional remote control.
Choose from a wide range of mildew and UV resistant acrylic awning fabrics, for a truely unique awning.
Felicia™ Retractable Awning casing - fully encloses the awning when not in use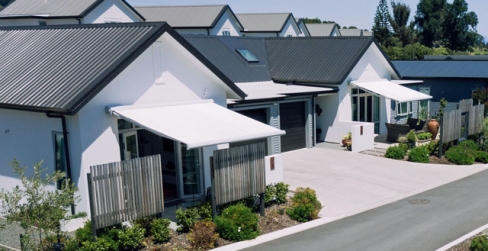 Felicia™ Retractable Awning - Shading the outdoor area and extending the indoor-outdoor flow
Felicia™ Retractable Awning