Bannette™ Drop Down Awnings
Sunray Awnings & Blinds
Drop Down Awning
Bannette™ Drop Down Awnings are ideal for a range of commercial or residential situations. They create additional outside space, without the need to erect a permanent structure, increasing the use of the indoor-outdoor areas.
Many customers choose clear plastic PVC awnings to ensure that views are not interrupted, whilst being protected from the weather.  But many modern acrylic awning fabrics also offer semi-transparency and a range of stylish colours, enhancing the outdoor area, without blocking the view - the choice is yours.
Bannette™ Drop Down Awnings without arms can only be operated using a gearbox and removable crank handle. For motorisation of a Drop Down Awning, Sunray® offers the Solarzip™ awning, with all benefits of the Bannette™ awning and more.
Bannette™ Drop Down Awning - sheltering the spa pool from the wind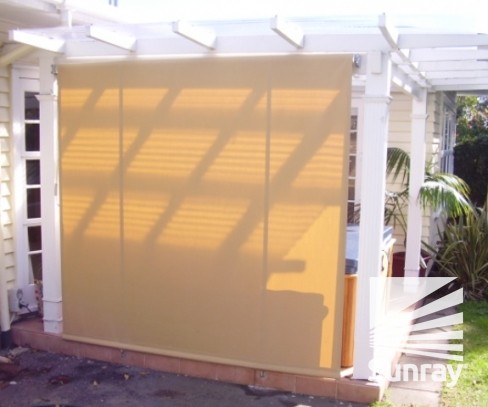 Bannette™ Drop Down Awning - fully opened and sheltering the spa area
Bannette™ Drop Down Awning in clear PVC - giving shelter to this outdoor area